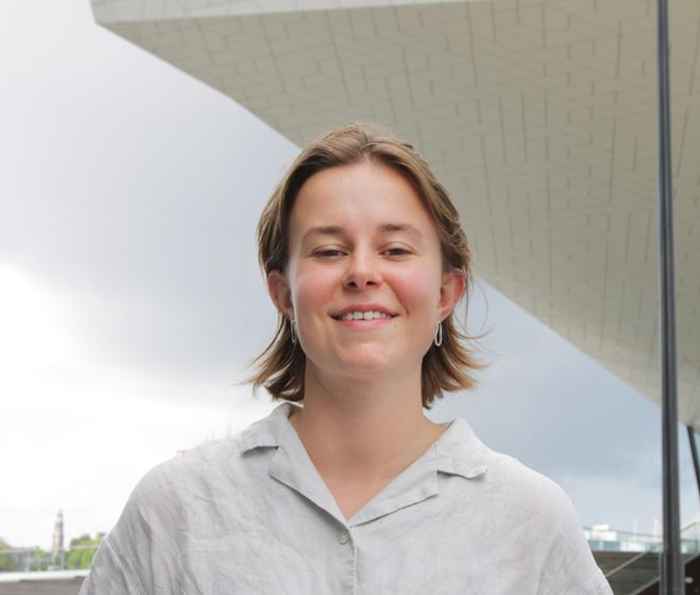 Why did you choose this Master's programme?
During the final phase of my Bachelor's, partially because I had to write my thesis, I started thinking about which subjects interested me the most. At the same time, I was thinking about which Master's programme to choose, but I found it a difficult decision. When I went to the open day of the Master's in Heritage and Memory Studies, it became apparent that the curriculum matched the subjects that interested me very well. The programme really appealed to me because it is very varied and leaves plenty of room to investigate the practical side of heritage studies. We follow courses, do internships and go on excursions, which is, in my opinion,very important for a heritage Master's programme and, moreover, is great fun.
What did you do before this Master's programme?
Before this Master's, I did the Bachelor's in Liberal Arts and Sciences in Utrecht, which is an interdisciplinary study programme. I studied subjects from various disciplines, but my main subject was art, culture and history. I also did the minor Visual Culture and Society.
What kind of courses are part of this programme and what are they about?
The first semester of this Master's consists of a combination of free electives and core courses. The first core course we took was very theoretical. I liked it because everyone in the Master's has a different academic background, and through this course we were given a common theoretical basis we could rely on for the rest of the Master's programme. The other core course concerns the various subjects covered by heritage, such as traumatic and colonial heritage, but also the conservation of monuments and the methods we can use.
What kind of internship are you doing and what is your task?
I am going to do an internship at the 'Rijksdienst voor het Cultureel Erfgoed' (a Dutch heritage organisation) in Amersfoort. I will participate in the research of the European Convention of Faro about heritage participation. As a research assistant, I will help analyse transcripts of interviews.
What are your fellow students like?
My fellow students are very nice. I feel that our group has a safe atmosphere and that everyone is comfortable enough to say what they think. Also, outside of the classroom we have a very good time together, too.
Do you have any tips for prospective students?
Visit open days of different Master's programmes in addition to reading the information on the website so that you can get a good sense of what the programmes entail. Choose what feels right and of course what interests you.